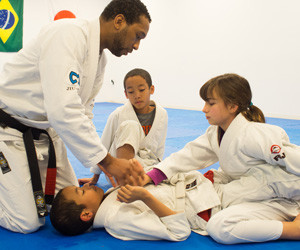 Thank you for taking the time to visit our site and learn more about us. You have taken an important first step in a life-changing journey to learn about Gracie Jiu-Jitsu. The following are some commonly asked questions about the art and about our academy.
What is Gracie Jiu-Jitsu?
Gracie Jiu-Jitsu is the World's most powerful form of self-defense designed for people of all body types because it enforces the use of leverage and efficiency over brute strength to defeat a bigger and stronger opponent. Practicing Gracie Jiu-Jitsu provides many benefits:
• Increase your cardio and physical fitness
• Shed extra pounds
• Heighten your awareness
• Avoid being bullied
Do you have a competition team?
We do support competition, however, we primarily teach Gracie Jiu-Jitsu as a method of self-defense. Although the sporting aspect is also fun and well-recognized, our first concern is teaching students how to defend themselves in a real-life street fight situation. However, we do have a competition team for students who wish to compete in sport Jiu-Jitsu. The competition team competes in both local and national tournaments.
How much does it cost?
We offer an unlimited training package designed to fit every individual's training needs. We will discuss pricing once we have a chance to meet you and assess what training package best suits you. We highly recommend you come by and try a complementary Gracie Jiu-Jitsu class so you can experience why this art is the best self-defense system. Click here to sign up for a FREE trial class.
Do I need a uniform?
When you register, we will provide you with the information you need to order your gi, including suggested websites and sizing guidelines. We are a traditional Gracie Jiu-Jitsu school and only allow white uniforms (gis). There are many benefits to wearing a uniform while training: uniformity, hygiene, friction, ability to grip, increased technical skill, increased body warmth (injury prevention), display of rank, protection of regular clothes, and increased attack options.
Do you offer price discounts?
Yes. We offer price discounts to active military personnel, law enforcement personnel, and college students. We also offer special family rates.
How do I get started?
Call (251-605-8100), email info@zgcjiujitsu.com, or stop by to discuss the training options that will work best for you. Click here to sign up for a FREE trial class.
Try out a FREE Class with no obligation!
At Gulf Coast Jiu-Jitsu your first class is always FREE. There's no better way to find out if Gracie Jiu-Jitsu is right for you than by joining us for a class. What are you waiting for?